The safety and wellbeing of our clients and staff members are of paramount importance to us at Complete Clean. During the coronavirus pandemic, we acted quickly to put any additional guidance into place, and homeowners, tenants, and businesses in every industry will need to adapt their working methods as we move forward.
As an essential cleaning service provider in the Cayman Islands, Complete Clean Limited has issued a COVID-19 Safety Policy outlining the measures we are actively taking to mitigate the spread of coronavirus.
We communicate with our cleaning staff regularly, and they are aware of the precautions included in our risk assessment and how they apply to their specific job site.
The cleaning technicians at Complete Clean now go a bit beyond their normal routine in terms of cleaning, using more disinfectants. They are informed of how to utilize them, using only EPA-approved products to battle droplets and allowing the disinfectant to sit on the surface for the length of time required for sanitizing.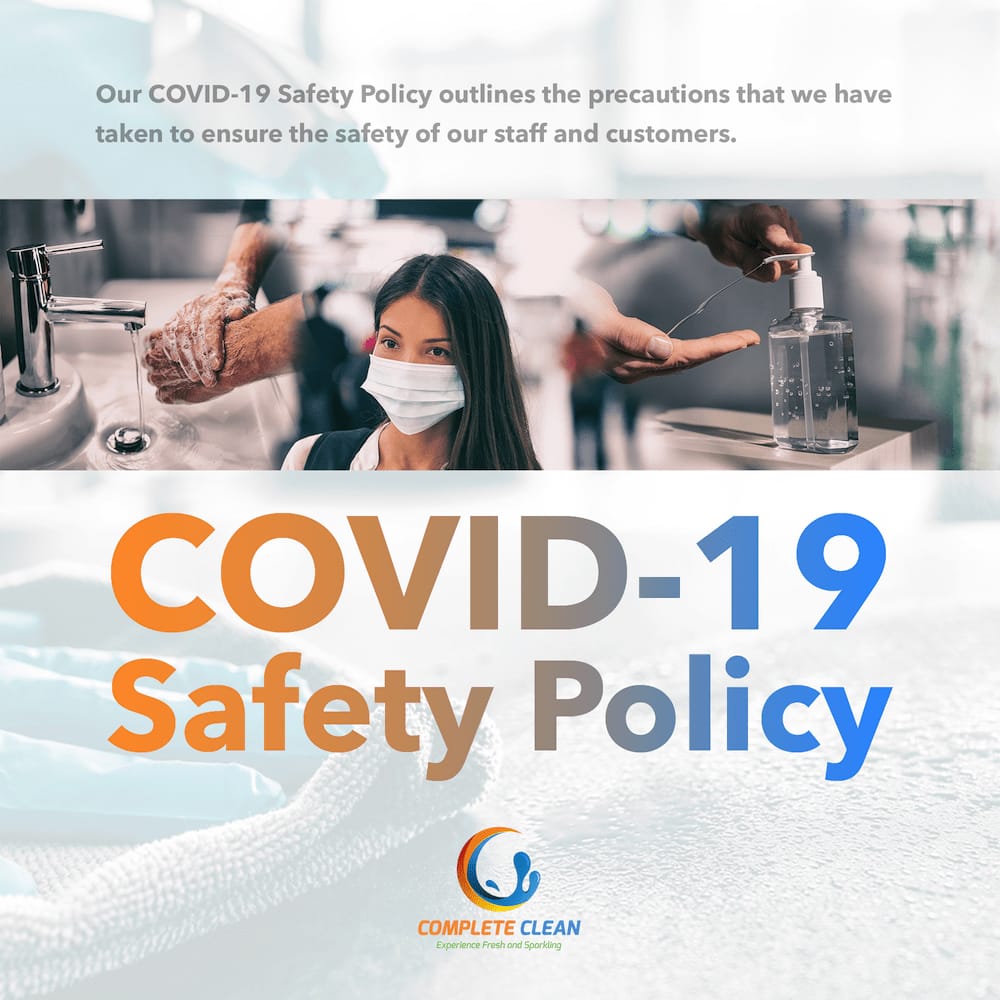 As per the COVID-19 Safety Policy, Complete Clean has taken the following measures to keep our cleaners and clients safe:
All of our cleaners are vaccinated.
We have taken measures to reduce interactions between the team members, to enforce the social distancing rules.
We have trained our team members on the new procedures and provided guidelines to facilitate COVID-19 compliance.
Our cleaners use face masks, and other personal protection equipment, such as gloves, etc.
The number of team members in the car has been limited to between 2-4.
We always use newly laundered and sanitized supplies so germs are not spread from client to client.
Our vacuums, attachments, and other re-usable supplies are disinfected between clients.
New microfibre cloths are provided for each home and workplace.
Our company vehicles' interiors are sanitized daily.
Teams are provided antiviral and antibacterial hand sanitizers to use regularly, prior to and after each client.
Cleaners are informed that they are not to attend work if they or any of their close contacts display any COVID-19 symptoms.
We regularly communicate with our cleaners regarding their health and the importance of isolating, getting tested, and seeking further medical advice if they feel unwell. All our cleaners are screened daily with temperature checks. As of November 2021, in accordance with Cayman's Lateral Flow Testing policy, our cleaners will be screened with the use of rapid antigen tests ("RAT") at least once per week. RAT is a type of lateral flow test ("LFT") that detects SARS-CoV-2, the virus that causes COVID-19. If one of our cleaners tests positive for the virus, they must agree to confirm their result by visiting the Cayman Islands Hospital, Doctors Hospital, or Health City Cayman Islands for authorized testing.

Where To Get A COVID-19 PCR Test In The Cayman Islands →
We recognize that getting through this is a team effort, and so we kindly ask our clients also to take some precautions:
Keep at least 1.5 metres distance between you and the cleaner at all times. Preferably, move to a different room from where the cleaner is working.
Wear a mask as an extra safety measure.
If you or someone in your home or workplace is experiencing COVID-19 like symptoms or has tested positive for COVID-19, please notify us immediately so we can postpone your upcoming bookings.
Thank you for your continued support.
Please be advised that the latest version of this policy can be located on the COVID-19 Safety Policy page of Complete Clean website.
Complete Clean is closely monitoring COVID-19 (coronavirus) and its impact in our community. The health and safety of our customers and employees is our highest priority during this time. While we cannot control the severity or unpredictability of this virus, we can take preventive measures to limit the spread and impact of COVID-19, especially as the Cayman Islands approaches the final phases of reopening the country. Complete Clean is currently acting with prudence in our day-to-day operation with basic preventative safety measures following the guidance set forth by the Cayman Islands Health Services Authority (HSA), Centers for Disease Control (CDC) and other health agencies.

Luraine Freeman, Founder & CEO at Complete Clean Limited