The government of the Cayman Islands has released a phased approach plan for safely reopening its country that is built on safely reintroducing tourism to the economy and travel for residents. During the reopening phases, frequent cleaning and disinfecting are critical and should be implemented properly to help reduce the spread of SARS-CoV-2, the virus that causes the respiratory disease coronavirus disease 19 (COVID-19).
The goal for the Cayman Islands' reopening plan is to safely reopen all three islands while locally managing the risk of transmission by maximizing vaccination rates and continued surveillance testing throughout each phase. According to the government, the transition between phases will be determined by the Chief Medical Officer's assessment of prevalence rates in main Cayman Islands travel markets, local vaccination rate, the prevalence of variants of concern, levels of hospitalization and death rates.
The Phased Plan for Reopening the Cayman Islands
Phase 1 became effective in June 2021. Continued uptake of local vaccination and low COVID-19 prevalence rates in key Cayman Islands travel markets allow for the introduction of reduced quarantine periods and the easing of other travel restrictions.
Phase 2 is planned for 9 August 2021. Easing the monitoring of vaccinated travelers by the removal of GPS monitoring will allow CI Government to assess local impacts and build capacity to manage the increase in traveler volume anticipated with the opening of the borders in Phase 3.
Phase 3 is planned for 9 September 2021. Subject to the achievement of an 80% vaccination rate, the limited introduction of tourism during the slow season with some restrictions (including a flight slot management system) allows the CI Government to manage the number of persons arriving. This also allows CI Government and the tourism industry to develop capacity for dealing with larger volumes of travelers in preparation for the high season.
Phase 4 is planned for 14 October 2021. Quarantine requirements will be removed for all securely verified vaccinated travelers. It is anticipated that the local vaccination rate will be adequate, allowing for a safe increase in tourism and further relaxation of restrictions.
Phase 5 is planned for 18 November 2021. Unvaccinated children under age 12 will be allowed to travel with vaccinated adult tourists. Cruise tourism remains prohibited.
Phase 6 is planned to be first assessed by 27 January 2022. Assessment continues of COVID-19 in the local and international contexts to determine when and how to proceed with further relaxation of restrictions, including for cruise tourism.
View the full Reopening Plan for the Cayman Islands below.
[embeddoc url="https://completecleanky.com/wp-content/uploads/2021/07/Cayman-Islands-Reopening-Plan-Post-Covid-19-Phase-Grid-2020-2022.pdf" height="600px" download="all" viewer="google"]
---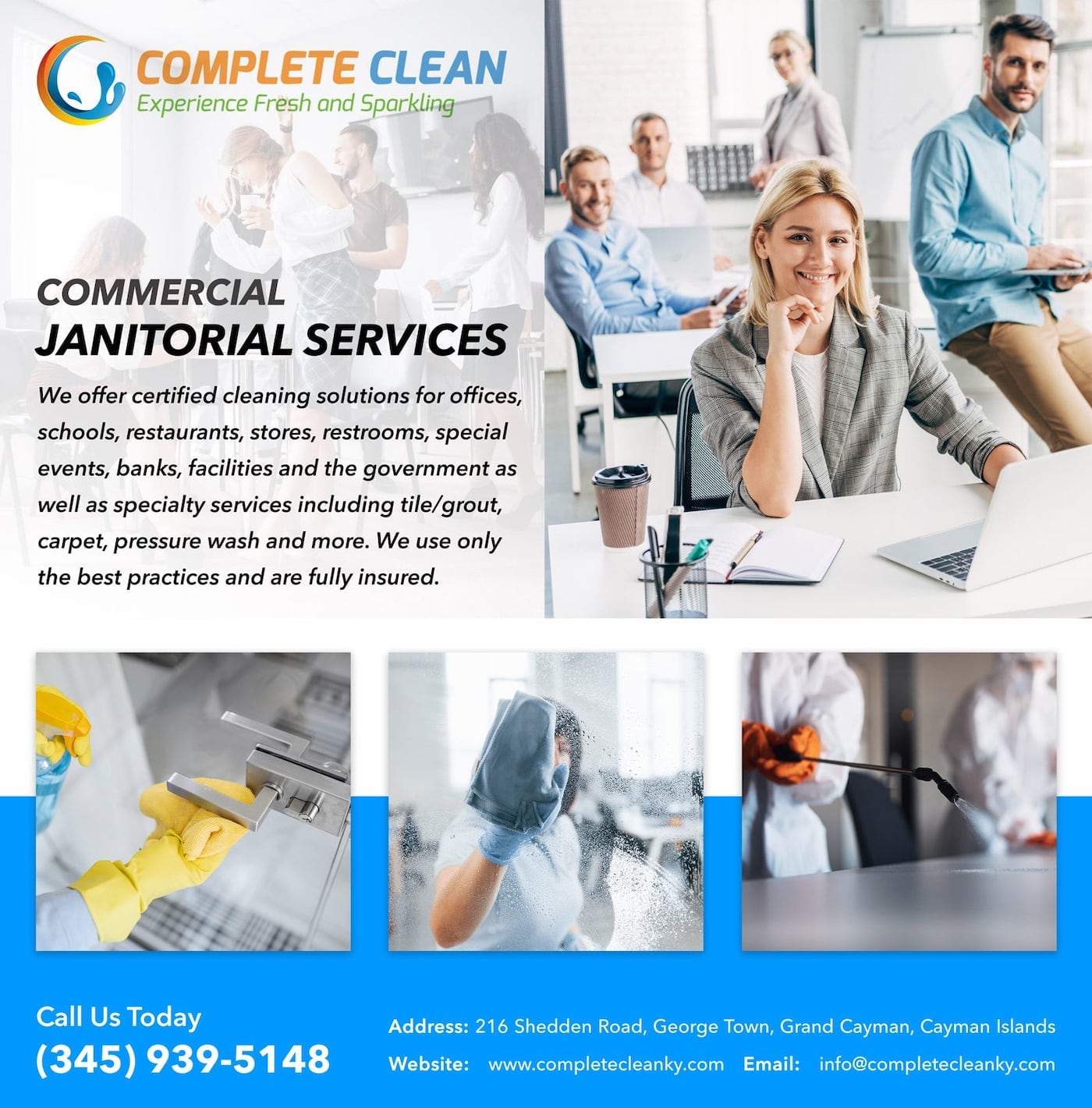 Guidelines for Safer COVID-19 Cleaning and Disinfection During Cayman Reopening
Reducing the risk of exposure to COVID-19 by cleaning and disinfection is an important part of reopening the Cayman Islands that will require careful planning. While it is important to practice social distancing and prevention hygiene, such as frequently washing your hands and wearing face coverings, one can also ensure that their environment including their home and business place is properly maintained by frequent cleaning and disinfecting. Everyone has a role in making sure our communities are as safe as possible to reopen and remain open.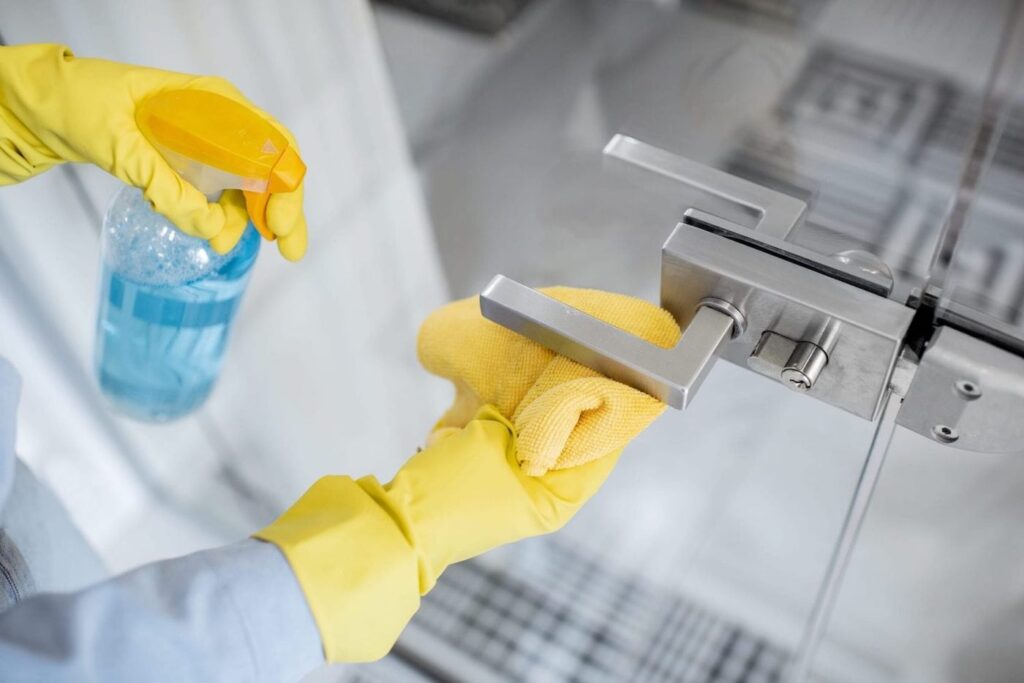 These evidence-based cleaning and disinfecting practices are built on "Reopening Guidance for Cleaning and Disinfecting Public Spaces, Workplaces, Businesses, Schools, and Homes" by the Centers for Disease Control and Prevention (CDC) and the Environmental Protection Agency (EPA).
Cleaning and disinfecting public spaces including your workplace, school, home, and business will require you to:
Develop a plan
Implement the plan
Maintain and revise the plan
DEVELOP A PLAN
Evaluate your workplace, school, home, or business to determine what kinds of surfaces and materials make up that area. Most surfaces and objects will just need normal routine cleaning. Frequently touched surfaces and objects like light switches, doorknobs, handles, and faucets will need to be cleaned and then disinfected to further reduce the risk of germs on surfaces and objects.

You should also consider what items can be moved or removed completely to reduce frequent handling or contact from multiple people. Soft and porous materials, such as area rugs and seating, may be removed or stored to reduce the challenges with cleaning and disinfecting them.

It is critical that your plan includes how to maintain a cleaning and disinfecting strategy during and after the reopening phases.
IMPLEMENT THE PLAN
Once you have a plan, it's time to take action. Read all manufacturer's instructions for the cleaning and disinfection products you will use. Put on your gloves and other required personal protective equipment (PPE) to begin the process of cleaning and disinfecting.

Clean surfaces and objects using detergent and water prior to disinfection. Always wear gloves appropriate for the chemicals being used for routine cleaning and disinfecting. Follow the directions on the disinfectant label for additional PPE needs. When you finish cleaning, remember to wash hands thoroughly with soap and water. Clean or launder soft and porous materials like seating in an office or coffee shop, area rugs, and carpets. Launder items according to the manufacturer's instructions, using the warmest temperature setting possible and dry items completely.

EPA-approved disinfectants, when applied according to the manufacturer's label, are effective for use against COVID-19. Follow the instructions on the label for all cleaning and disinfection products for concentration, dilution, application method, contact time, and any other special considerations when applying. Follow the instructions on the label to ensure safe and effective use of the product. Many product labels recommend keeping the surface wet for a specific amount of time. The label will also list precautions such as wearing gloves and making sure you have good ventilation during the use of the product. Keep all disinfectants out of the reach of children.

In addition to having the proper products and tools, proper training is essential for safe and effective cleaning and disinfecting. Confirm that service provider partners are implementing in-person training and providing materials in appropriate languages for cleaning personnel prior to workplace reopening.

Consider choosing a professional cleaning service that is certified to a high standard of cleaning and sanitizing services, which ensures third-party verified training and rigorous procedures for the best efficacy.
MAINTAIN AND REVISE THE PLAN
Take steps to reduce your risk of exposure to the virus that causes COVID-19 during daily activities. CDC provides tips to reduce your exposure and risk of acquiring COVID-19. Reducing exposure to yourself and others is a shared responsibility. Continue to update your plan based on updated guidance and your current circumstances.

Routine cleaning and disinfecting are an important part of reducing the risk of exposure to COVID-19. Normal routine cleaning with soap and water alone can reduce the risk of exposure and is a necessary step before you disinfect dirty surfaces.

Surfaces frequently touched by multiple people, such as door handles, desks, phones, light switches, and faucets, should be cleaned and disinfected at least daily. More frequent cleaning and disinfection may be required based on the level of use. For example, certain surfaces and objects in public spaces, such as shopping carts and point of sale keypads, should be cleaned and disinfected before each use. Consider choosing a different disinfectant if your first choice is in short supply. Make sure there is enough supply of gloves and appropriate personal protective equipment (PPE) based on the label, the amount of product you will need to apply, and the size of the surface you are treating.

Enhanced cleaning and disinfecting protocols to protect against COVID-19 should not increase exposure to hazardous chemicals for cleaning personnel or building occupants. CDC has identified asthmatic individuals as a high-risk group for COVID-19. Choosing safer products, especially those that do not contain asthmagens, is critical for protecting this high-risk group. Please do not hoard or overuse cleaning and disinfecting products, or other supplies.

It may be tempting to choose conventional chemical cleaners, but the use of EPA-certified eco-friendly cleaners, such as Clorox and Lysol, is more important than ever during this time of increased cleaning frequency. EPA-certified eco-friendly cleaners are proven to be as safe yet just as effective as harsher, more caustic cleaning products at removing dirt and grime. EPA-certified eco-friendly cleaners have benefits beyond safer ingredients and proven efficacy: they are concentrates, designed to be diluted with unheated water, and thus they prevent packaging waste and reduce energy
consumption for transportation and water heating.

There are many types of disinfectant products on List N, all of which are effective at deactivating SARSCoV-2 if used correctly. Because disinfectants are designed to kill pathogens, however, none can be completely harmless. Nevertheless, there are safer options.

COVID-19 is currently the top health concern for many, and transparency is critical for maintaining trust with property personnel, building occupants, and other stakeholders. Develop and follow a communications plan to keep stakeholders apprised of actions being taken about the virus.

The plan should specify an emergency communications procedure if there is a suspected COVID-19 case in the building. Cleaning staff must be told immediately about any suspected cases. Building management should confirm when each tenant's space will be unoccupied and available for cleaning staff and have a protocol if the space is found occupied. Clear signage and emails identifying spaces closed for disinfecting and spaces safe to reenter will reduce confusion.
The general framework for cleaning and disinfection practices are as follows:
Normal routine cleaning with soap and water will decrease how much of the virus is on surfaces and objects, which reduces the risk of exposure.


Disinfection using EPA-approved cleaners and disinfectants against COVID-19 can also help reduce the risk. Frequent cleaning and disinfection of surfaces and objects touched by multiple people is important.


When EPA-approved disinfectants are not available, alternative disinfectants can be used (for example, 1/3 cup of bleach added to 1 gallon of water, or 70% alcohol solutions). Do not mix bleach or other cleaning and disinfection products together — this can cause fumes that may be very dangerous to breathe in.
---
The Effectiveness of Cleaning and Disinfection
Cleaning (use of soap or detergent) and disinfection (use of a product or process designed to inactivate SARS-CoV-2) can reduce the risk of fomite transmission.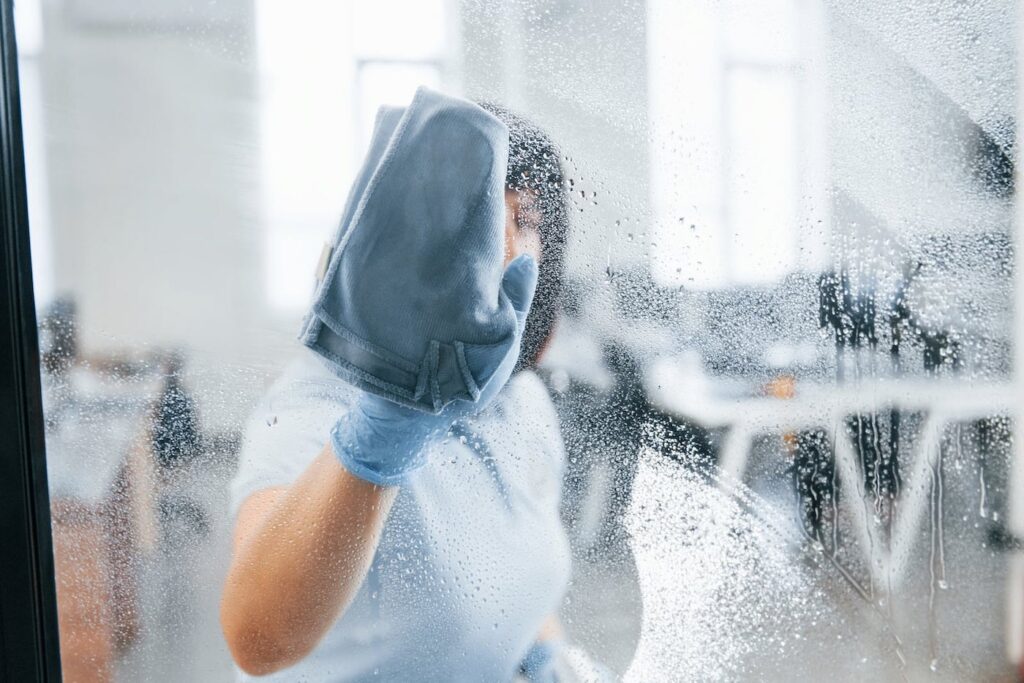 Cleaning reduces the amount of soil (e.g., dirt, microbes, and other organic agents, and chemicals) on surfaces, but efficacy varies by the type of cleaner used, cleaning procedure, and how well the cleaning is performed. From studies of cleaning focused on other microbes, a 90–99.9% reduction of microbe levels could be possible depending on the cleaning method and the surface being cleaned.
In addition to the physical removal of SARS-CoV-2 and other microbes, surface cleaning can be expected to degrade the virus. Surfactants in cleaners can disrupt and damage the membrane of an enveloped virus such as SARS-CoV-2.
To substantially inactivate SARS-CoV-2 on surfaces, the surface must be treated with a disinfectant product external icon registered with the EPA's List Nexternal icon or technology that has been shown to be effective against the virus. Disinfectant products might also contain cleaning agents, so they are designed to clean by both removing soil and inactivating microbes. Cleaners and disinfectants should be used safely, following the manufacturer's guidance. Some types of disinfection applications, particularly those including fogging or misting, are neither safe nor effective for inactivating the virus unless properly used.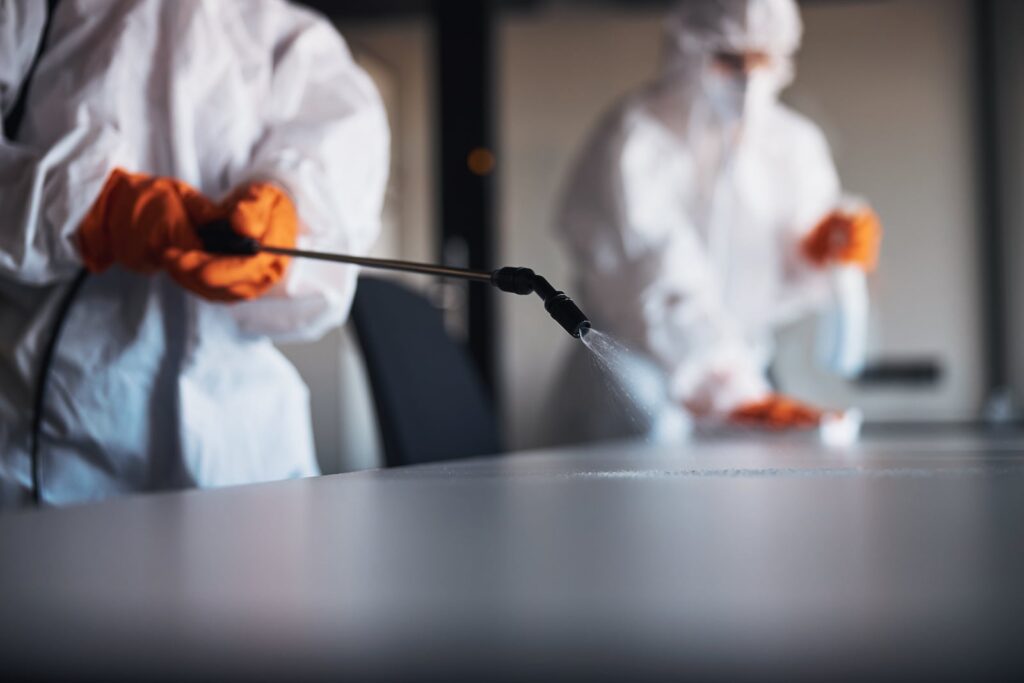 Surface disinfection has been shown to be effective for preventing secondary transmission of SARS-CoV-2 between an infected person and other people within households. Routine cleaning performed effectively with soap or detergent, at least once per day, can substantially reduce virus levels on surfaces. When focused on high-touch surfaces, cleaning with soap or detergent should be enough to further reduce the relatively low transmission risk from fomites in situations when there has not been a suspected or confirmed case of COVID-19 indoors. In situations when there has been a suspected or confirmed case of COVID-19 indoors within the last 24 hours, the presence of an infectious virus on surfaces is more likely, and therefore high-touch surfaces should be disinfected.
If the right products are used, the virus that causes COVID-19 can be killed. EPA has compiled a list of disinfectant products that can be used against COVID-19, including ready-to-use sprays, concentrates, and wipes. Each product has been shown to be effective against viruses that are harder to kill than viruses like the one that causes COVID-19.

View EPA-Approved Disinfectants List N for Coronavirus (COVID-19)
---
Cleaning and Disinfecting Best Practices and Tips For Cayman Reopening
You can observe and use the new factsheet by U.S. Environmental Protection Agency (EPA) for cleaning and disinfecting best practices and tips during the reopening of the Cayman Islands.
Follow CDC, State, and Local Public Health Guidelines
According to the CDC, COVID-19 is mainly spread through the air. The risk of getting the virus by touching a contaminated surface is thought to be low.
Be Careful Using Disinfectants Around People with Asthma
Disinfectants can trigger an asthma attack. If you have asthma, you may need to take extra precautions like avoiding areas where people are cleaning and disinfecting or making sure the space is well ventilated.
Don't Ask Children or Students to Apply Disinfectants
Disinfectants are powerful tools for controlling the spread of disease, and they can harm kid's health if used or stored in- correctly. Children and students should not apply disinfectants, and they should be kept out of children's reach.
Clean Surfaces with Detergent and Water
Normal routine cleaning with soap and water lowers the risk of spreading COVID-19 by removing germs and dirt from surfaces. In most situations, cleaning is enough to reduce risk.
Be Careful with Fogging, Fumigating, and Wide-Area or Electrostatic Spraying
Make sure your product's label includes directions for the application method. Follow all directions, including precautions. If a product isn't labeled for these application methods, using it that way might be risky or ineffective.
Don't Ignore the Label Directions
If you don't follow the label directions, disinfectant products may be ineffective or unsafe. Do not apply disinfectants to skin, pets, or food. Do not dilute disinfectants or mix them with other chemicals unless the label tells you to. Don't think that twice the amount will do twice the job.
Use Registered Disinfectants According to Label Directions
Disinfectants further lower the risk of spreading COVID-19 by using chemicals to kill germs. Use disinfectants on high-touch surfaces when you know or suspect someone around you is sick with COVID-19.
Be Careful With UV Lights or Ozone Generators
UV lights or ozone generators may be risky or ineffective. EPA cannot verify if or when it is appropriate to use these devices. If UV lights or Ozone generators are preferred, they must be used with care.
Don't Use Unregistered Disinfectants
If a product says that it kills SARS-CoV-2 (COVID-19), but it doesn't have an EPA registration number, it may not be safe or effective. Federal law requires disinfectants to be registered with EPA.
---
During the reopening phases of the Cayman Islands, it's essential to plan, implement and maintain a proper cleaning and sanitizing routine to help reduce the spread of COVID-19 and to keep yourself, family, employees and customers safe. The cleaning technicians at Complete Clean are frequently briefed on proper cleansing and disinfecting techniques and procedures, and are equipped to help our clients be prepared for Cayman's reopening.

Luraine Freeman, Founder & CEO at Complete Clean Limited