We are thrilled to unveil the latest upgrade to our service – the all-new, enhanced booking form for Complete Clean! As a leading cleaning service provider in the Cayman Islands, we are committed to offering our customers the best possible experience. By listening to your feedback and leveraging cutting-edge technology, we have created a booking form that's more intuitive, efficient, and adaptable than ever before.
The Rationale Behind the Change
Our previous booking form has been a reliable tool for scheduling cleaning services. However, at Complete Clean, we are committed to constant growth and adaptation. We value our customers' feedback and have identified areas for improvement to enhance their overall experience. With a proactive approach, we embarked on a journey to reimagine our booking form and take it to new heights. By embracing change and striving for continual improvement, we aim to cater to the evolving needs of our valued customers.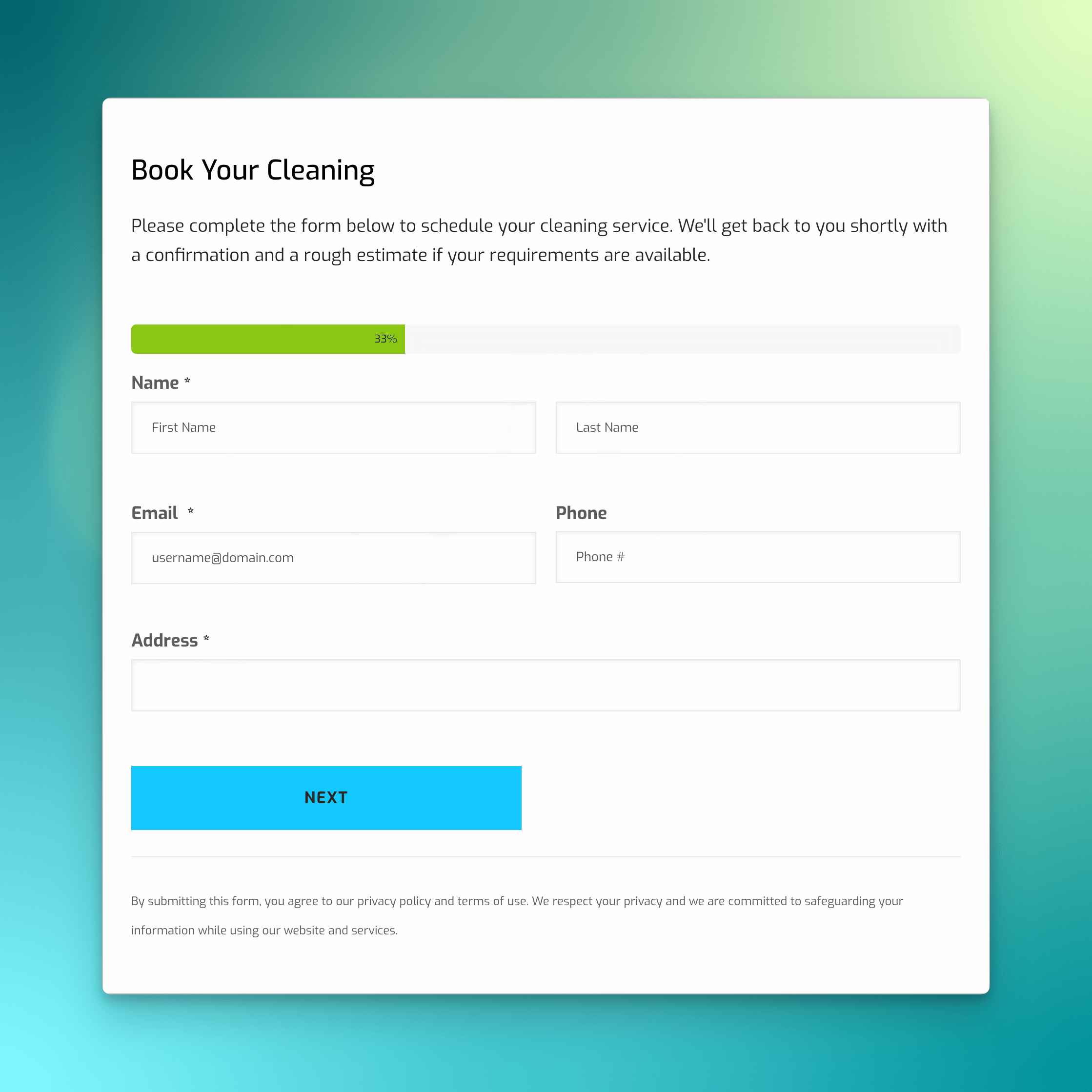 In today's competitive business landscape, creating a seamless user experience is crucial. To increase conversion rates, we have simplified our form, using clear and concise language while only asking for necessary information. A progress indicator has been implemented to guide users through the process and prevent drop-offs. Additionally, our form is optimized for mobile devices, ensuring a seamless experience for users accessing our site through phones or tablets. These strategies have resulted in better customer service and higher conversion rates.
Unmasking the New Booking Form
Our recently upgraded online booking form represents a significant advancement in our dedication to customer satisfaction. Developed through extensive research and invaluable client feedback, it streamlines both our booking processes and internal operations. The updated form offers an array of options, allowing multiple service selections simultaneously for your convenience. This reform simplifies your booking experience, improves our service efficiency, and revolutionizes your interaction with our services.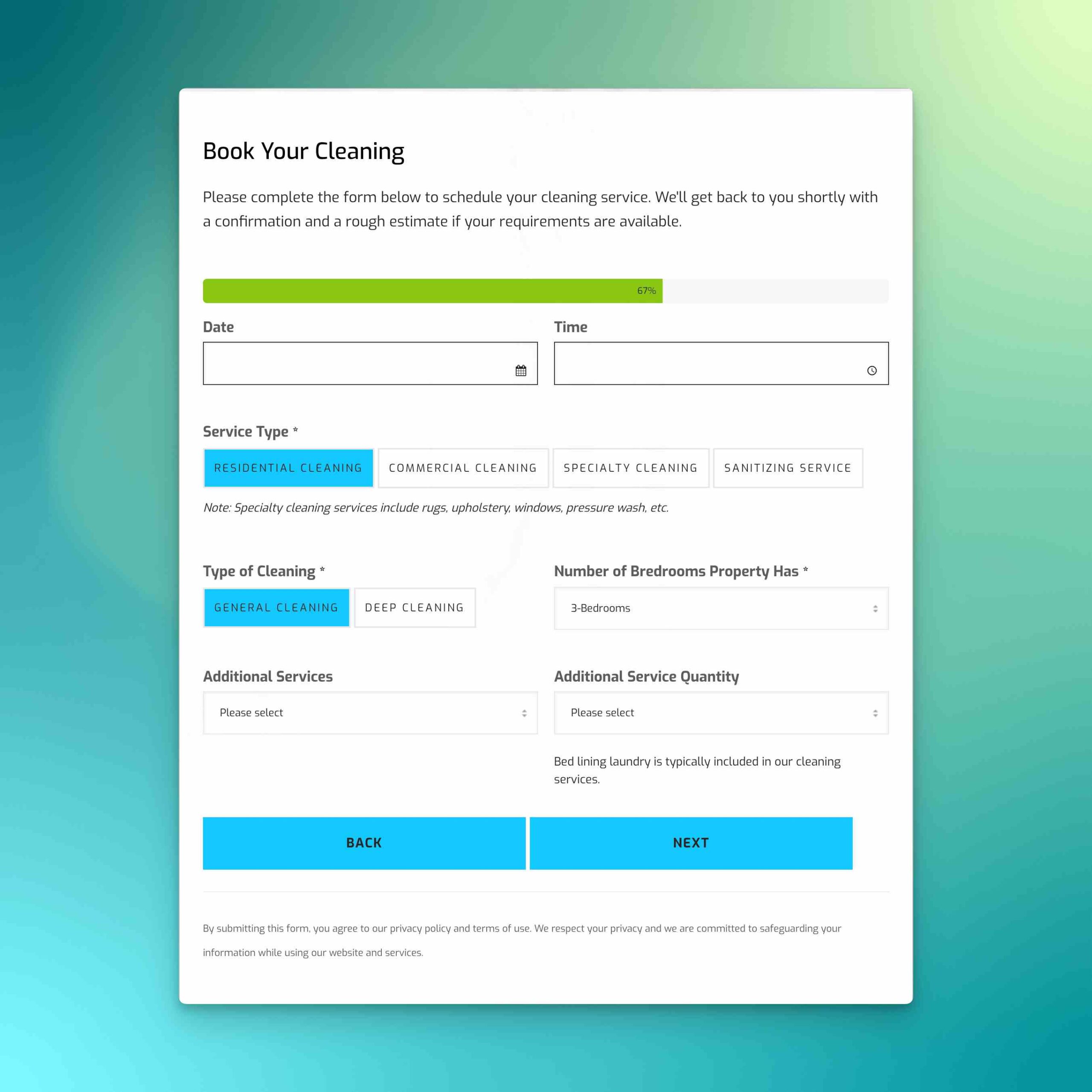 Unpacking the Key Features
The new booking form boasts a suite of innovative features designed to streamline your experience:
Service Type Selection: We're excited to introduce the Service Type Selection feature, allowing you to choose between General Cleaning,

Deep Cleaning

, Specialty Cleaning, and Sanitizing Services. This checkbox-style selection enables you to select multiple services simultaneously, tailoring your cleaning experience to your exact requirements.
Number of Bedrooms: To provide even more accurate pricing and tailored recommendations, we've added the option to specify the number of bedrooms in your property using a dropdown menu.
Optional Additional Services: You can now add optional services like ironing and laundry directly through the booking form, allowing for a truly personalized cleaning service package.
The Profound Impact of the New Booking Form
We anticipate that our new booking form will revolutionize your booking experience. With a well-descriptive layout and customizable options, you can make informed decisions and tailor your cleaning service to fit your unique needs. Whether you require residential cleaning, specialty cleaning, sanitizing services, or all three, our new form offers flexibility to meet your specific requirements. This results in a significant boost in customer satisfaction, underpinned by an efficient and enjoyable booking process.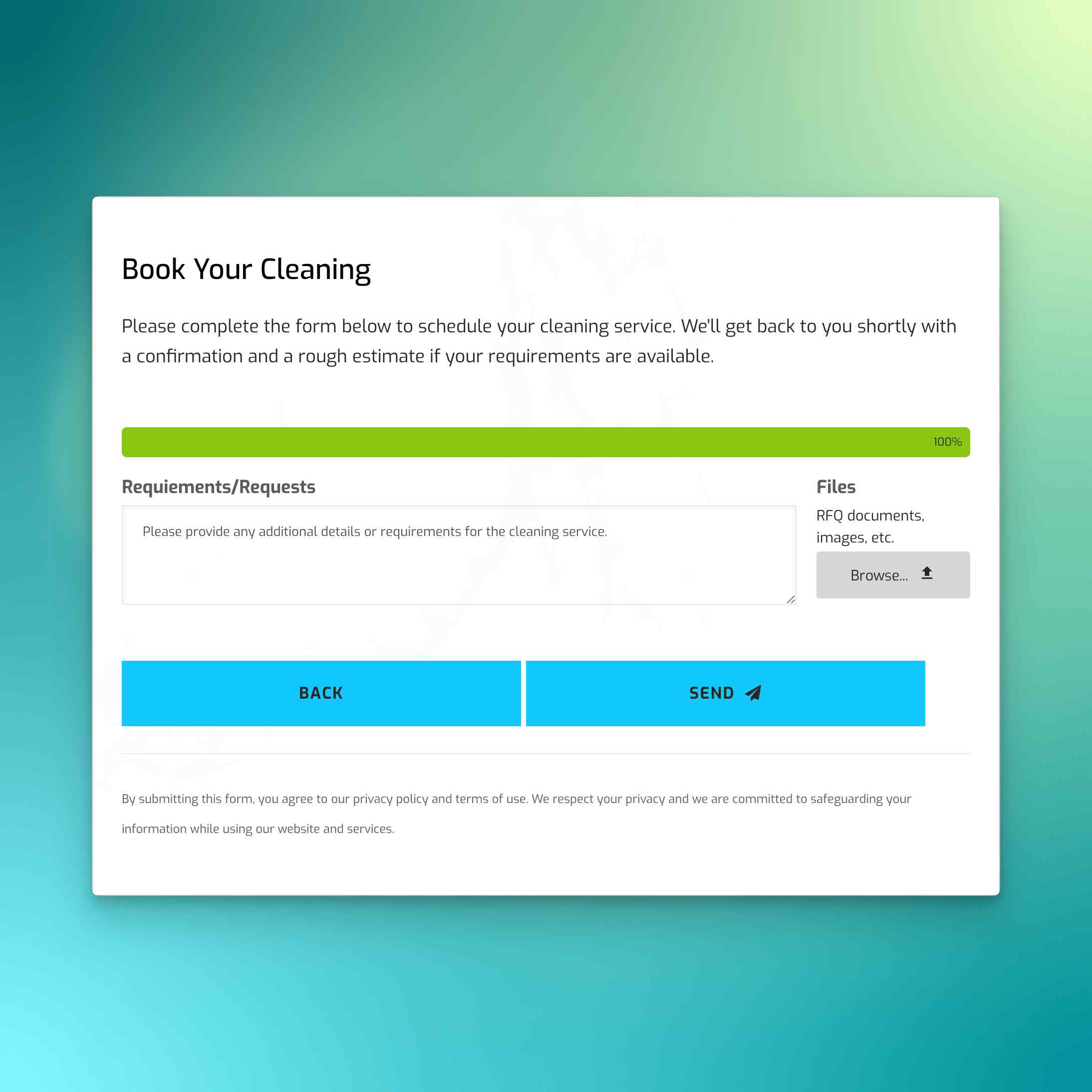 Navigating the New Booking Form
Booking a service with Complete Clean has never been easier! Simply input your personal information (including contact details and address), select the desired service types using the checkbox-style selection, specify the number of bedrooms in your property (if applicable), choose any optional additional services (if required), and provide any specific requirements or special requests in the designated section. Once you have filled out all the necessary information, just hit 'Submit'! We've streamlined the process to make it as straightforward as possible.
Continuous Enhancement and Improvement
At Complete Clean, we are committed to staying at the forefront of our industry in the Cayman Islands. As we collect data from the new booking form and continue to listen to customer feedback, we will identify opportunities to further refine and enhance the booking process. This commitment ensures that we deliver a user experience that exceeds your expectations.
Our new online booking form represents a significant improvement in the way you book cleaning services. Experience this new and improved system for a faster, more personalized, and satisfying booking process with Complete Clean.
---
Frequently Asked Questions (FAQs)
Here are some commonly asked questions about our enhanced cleaning service booking form:
Can I select multiple services in one booking?
Absolutely! Our enhanced booking form allows you to choose multiple services in one go. Whether you need residential cleaning along with specialty cleaning or sanitizing services, or a combination of all three, you can customize your booking to suit your specific needs.
What happens after I submit the booking form?
Once you submit the booking form, our team will review your request and contact you shortly to confirm your appointment. We strive to make the process as smooth as possible and will ensure that all details are in place for your scheduled cleaning service.
How do you ensure the privacy and security of my personal information?
At Complete Clean, we prioritize the privacy and security of your personal information. We have strict data protection protocols in place to safeguard your data and ensure compliance with privacy regulations.
What is the estimated response time after submitting the booking form?
We strive to respond promptly to all booking inquiries. Our team typically reaches out within 3–12 hours to confirm your appointment and address any specific requirements or special requests.
Can you provide the cost for my cleaning service before confirming the appointment?
Yes, a quotation is generally provided upon request, giving you an approximate cost for your cleaning service before confirming the appointment. We believe in transparent pricing to help you make informed decisions.
Are inspections required for commercial cleaning and specialty cleaning services? 
Yes, inspections are typically required for Commercial Cleaning Services and certain Specialty Cleaning Services. This allows us to assess the specific requirements, scope of work, and provide an accurate quote tailored to your needs.
Can I provide pictures or videos for specialty cleaning service requests?
Yes, for Specialty Cleaning Services, such as carpet or upholstery cleaning, we may accept pictures and videos from clients to assess the situation and provide an initial evaluation. We accept various file formats, including PDFs, images in formats such as JPEG and PNG, and videos that are preferably in MP4 format. You can upload a maximum of 10 files on our new booking form, with a maximum file size of 10MB for each file. However, be advised that an on-site inspection may still be necessary for a comprehensive assessment.
What are the payment options for your cleaning services? 
For our residential clients, invoices are typically sent following the completion of the service. Payment can be made conveniently through various methods, such as online payment or bank transfer. Monthly billing options may be available for frequent or recurring clients for added convenience.
---